Chicago Handyman Services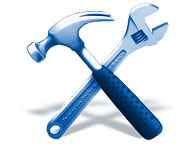 ACME Quality Services, Ltd provides handyman services and home repairs for home owners and condo owners in the Chicago area. Our
services
include everything from unclogging toilets to hanging pictures. Our
pricing
is very competitive. Call us today at
555-555-1212
for a free estimate. Be sure to fill out the form on the right for 20% off your first job.
Contact us
now to get started.
Our Services
Unclog your toilet
Fix a leaky plumbing fixture
Install blinds or drapes
Change lightbulbs that you can't reach, or don't want to.
Meet a delivery you can't leave work for.
Repair or replace locks.
Set up heating and cooling maintenance
Secure unit after a break in.
Set up emergency heating or cooling repairs.
learn more about our services
>>